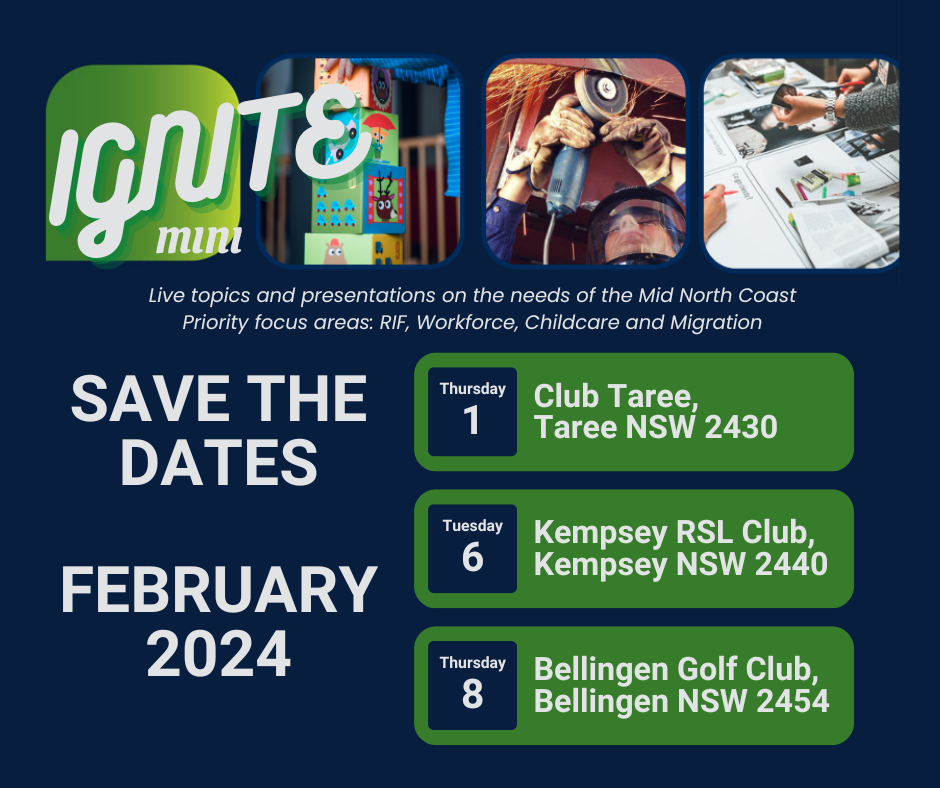 The RDA MNC Minis are three in-person events designed to relaunch the new Regional Investment Framework (RIF) and provide opportunity for consultation on the priority areas of the RIF and other key aspects for our Mid North Coast Region.
RIF is a new approach to how the Australian Government delivers regional investment. The priority focus areas include Investing in People, Investing in Places, Investing in Services and Investing in Industries and Local Economies. Other key aspects for our Ignite Mini include launching the revised MNC Strategic Plan Workforce, Early Childhood Education and Care, Regional Innovation Program and Migration.
Each workshop will run from 9.00am to 3.00pm and will cover the same topics in each region.
Tickets
• 1st February 2024 – Club Taree, Wingham Road, Taree
• 6th February 2024 – Kempsey RSL, York Lane, Kempsey
• 8th February 2024 – Bellingen Golf Club, Waterfall Way, Bellingen
Please click below to register.
Speakers
Speakers will include:
Dr Madeleine Lawler – CEO, Regional Development Australia Mid North Coast
Courtney Tune – Founder, Alt Collective
Sarah O'Carrigan – Founder, Bub Hub
Neenu Behl – Business, Industry and Regional Outreach and Engagement, Department of Home Affairs
Ignite Mini Agenda
An agenda will be released shortly…